Gettysburg Brass Band Festival Mission
The Gettysburg Brass Band Festival provides a "life after high school" experience to the many students in school bands. The bands performing in the GBBF show students that performing opportunities continue after graduation from high school. Second, the GBBF provides a performance opportunity for bands from all over the country and worldwide in our historic town. Third, the GBBF provides a reason for folks to visit Gettysburg, the surrounding area and National Military Park. A fourth expectations is to improve the quality of life in our town.
2016 Gettysburg Brass Band Festival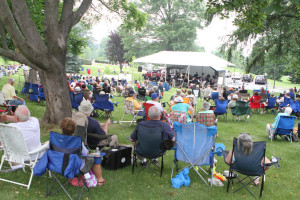 Festival Overview
The 2016 festival will host the US Army Herald Trumpets, the Atlantic Brass Band(a North American Brass Band Association Champion) from New Jersey, the Chesapeake Brass Band(NABBA Champion) from Delaware, Spires(NABBA Champion), Rockville and Benfield Brass Bands from Maryland and the Penn View Brass Band from near Philadelphia.
"When we see a town with flourishing enterprises, such as newspapers, schools, libraries, picture galleries, literary and scientific societies, concert halls, theaters, Brass Bands, etc., we need not be told that it is the dwelling place of intelligent and cultivated people." This excerpt from George F. Patton's A Practical Guide To The Arrangement of Band Music , published in 1875 describes our town. Made famous as the place where Abraham Lincoln delivered his "Gettysburg Address" four months after the Civil War battle which bears it's name, the small college town of Gettysburg, Pennsylvania has become home for the past 18 years to the Gettysburg Brass Band Festival, produced by a group of volunteers and continuing in 2016 in parternership with the Lutheran Seminary, the Music,Gettysburg!. Concert Series, Destination Gettysburg, The Gettysburg Times, and the National Park Service at Gettysburg. GBBF performers have included The United States Marine Drum and Bugle Corps, The United States Army "Old Guard" Fife and Drum, The United States Army Field Band and Soldiers Chorus, The Quantico Marine Band. The River City Brass Band, The Boston Brass, The Grammercy Brass Orchestra and the Athena, all-female, all-star, Brass Band.